A new Hand-made Class AB Mini Integrated Amplifier selected by Hifi cat for readers is Spotless D1. This product has both value and performance.
DISCRETE DESIGN: Challenge the size limit
WIRELESS CONNECTION: Bluetooth 5.0 APTX Stereo
SLEEK DESIGN: 86 x 145 x 166 mm
HANDMADE: Sound with soul
UNIQUE UI POWER: Smooth tone, charming midrange
BIRCH WOOD: Following the traditional materials used for musical instruments
Can be combined to form a mini system:
Spotless D1 Amplifier
Spotless Seed 2.1 Bookshelf Speakers
Spotless Seed 4x4 Bass Base
Spotless 211 Stands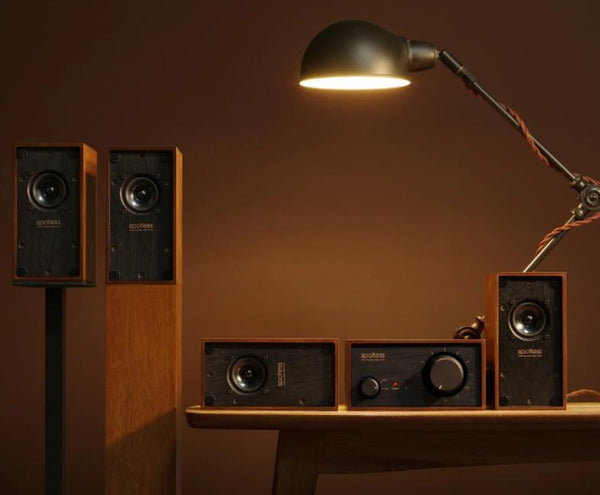 Hand-made discrete AB class amplifier
Spotless D1 part uses ne5532 + 1m1875. The sound is charming, withstands a test.
The power supply of Spotless D1 part uses a UI-type transformer. This type of transformer has the advantages of both the square and the toroidal transformers' sound characteristics, maintaining the square transformer's smooth tone, charming midrange, and the dynamics of a toroidal transformer.
Spotless D1 Built-in Bluetooth 5.0 chip, you can enjoy wireless high-quality stereo music from your phones. With Qualcomm 0CC3008 chip, it supports APTX. APTXLL, A2DP, AVRCP, HFP, TWS. AAC, ItS.
It begins with beauty, but it is more than beauty.
Spotless D1 amplifier + Seed 2.1 bookshelf speakers are highly compact. ft can perform both chamber music with beautiful strings and infectious human voices through its clever acoustic design. The low frequencies are thick and powerful, with an excellent sound density, especially for playback of vocals, violins and other string instruments.
Spotless D1
PARAMETERS
Output Power: 2 x 22 watts
Frequency Response: 20—20 KHz
THD: <1% I 1w 1kHz
Input: RCA x 1 + Bluetooth x 1
Output Impedance: 4-8 OHM
Weight: 2.5 kgs
Input Sensitivity: 23OmV
Dimensions: 86 x 145 x 166 mm