High-Resolution ES9018K2M Audio:
The XDUOO XP-2BAL DAC and headphone amplifier features an ES9018K2M HD Bluetooth DAC, which is shows the excellent performance,and supports native DSD, DXD and PCM signals.The maximum support PCM-32BIT/384KHZ,DSD256, and DXD 32BIT/352.8KHz.The XDUOO XP-2BAL is providing high-resolution audio for an exceptional listening experience.
CSR8675 Bluetooth 5.0 chip:
The Qualcomm's Flagship CSR8675 Bluetooth 5.0 technology ensures a stable and fast wireless connection, allowing you to stream music from your smartphone or other devices.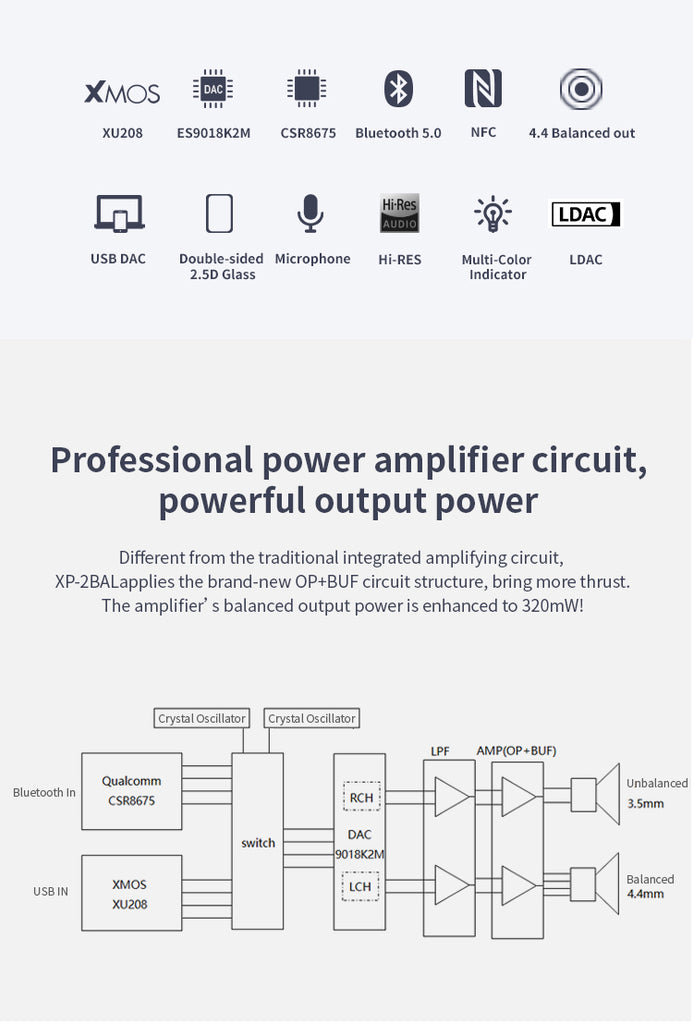 320mW output power, Professional power amplifier circuit:
Different from the traditional integrated amplifying circuit,XP-2BAL applies the brand-new OP+BUF circuit structure, bring more thrust.The amplifier' s balanced output power is enhanced to 320mW that can drive high-impedance headphones with ease, delivering clear and detailed sound.
Balanced Output:
The balanced headphone output provides a cleaner and more detailed sound with reduced distortion, making it perfect for use with high-end headphones.
Asynchronous USB DAC:
lt can be used as the external USB DAC. USB receiver chip applies XMOS'sXU208. With asynchronous transfer mode, maximum support of PCM is upto 32 bit/384kHz, DXD 32 bit/352.8kHz; DSD256. Also, it supports iPhone/lOsequipment,Android phone, and player audio decoding...
Compact and Portable:
The XDUOO XP-2BAL is compact and lightweight, making it easy to carry with you wherever you go. The long battery life ensures that you can enjoy high-quality audio for extended periods without having to recharge.
Built-in microphone with QualcommcVc noise cancellation technology:
The built-in customized audio microphone with high sensitivity supports Bluetoothvoice communication. Matching with the new generation of Qualcomm'sCVC8.0 noise reduction technology, it is clearer in communication to chat likea cork and you won't pull out the mobile in a hurry to feel awkward.
Versatile Compatibility:
The XDUOO XP-2BAL is compatible with a wide range of devices, including smartphones, tablets, and computers, making it an excellent choice for anyone who wants to enjoy high-quality audio on the go.
PARAMETERS
BATTERY : 3.7V/2200mAH
COMPUTER USB INPUT : Win 7-11,Mac OSx,IOS,Android system
OUTPUT POWER : unbalanced=180mW@32Q, balanced=320mW@32Q
FREQUENCY RESPONSE : USB/Bluetooth: 20Hz~20kHz amplifier: 10Hz~100kHz
USB SAMPLING RATEPCM: 16-32bit/44.1-384kHz  DSD: DOP/NATIVE, DSD64-256  DXD:24-32 bit/352.8-384kHz
BLUETOOTH: 16-32bit/44.1-96kHz 
BLUETOOTH FORMAT : SBC、AAC、aptX、aptX LL、aptX HD、LDAC
GAIN: +3/9dB
S/N: balanced=112dB unbalanced=110dB
CHARGING TIME about 3hours
THD+N: unbalanced=0.002%@1kHz balanced=0.001%@1kHz
SIZE: 10.5*.55*1.5cm     WEIGH: 0.15kg