Intro:
The engineer of SONCOZ spent the last years listening to the world's best linear power supplies including the Audiophile Ultra-low power supply. If you're looking for power supply upgrades for your gear, this review may help point you in the right direction.
Any audiophile knows: having high-performance linear power supplies is essential for an enthralling listening experience. Sure it can sound decent and engaging without one – but you simply won't be able to achieve something closer to life. 
But just buying any linear power supply isn't always going to sound better. It has to be synergistic with your other components – and personal proclivities. The motivation for this massive survey is to guide you to a power supply that may work for you – and your gear.
Keep in mind, my favorite power supply might not be the same for you. Simply because my gear and goals might be different. And everyone connects to music in their own subjective way. Personally, I enjoy a richer, warmer, and denser sound. So consequently, my "Cons" may be your "Pros." And that's completely fine.
Recently there are many new Audio DAC available on the market, but few new linear power supplies are available. We bring the SONCOZ LP1 today. 
So many our fans bought the LP1 used with the RME DAC. Found that is super suitable.
SONCOZ  LP1 ultra-low noise linear power supply is the best choice for upgrading ​HIFI power systems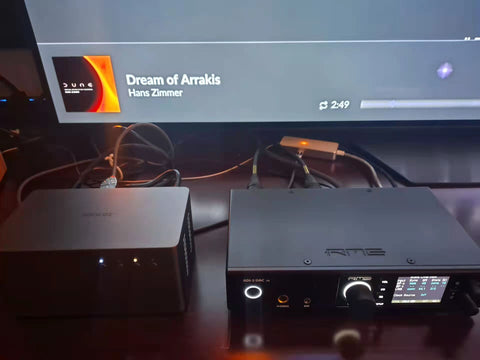 Type: Linear Power Supply
SONCOZ  ​LP1
integrates 2*USB-A and DC(5.5-2.5)*1 power output interface. All power output interfaces can be opened and closed independently, and there is a timed output shutdown function. 
SONCOZ  LP1
multi-power supply (AC110/220@50/60Hz) input, suitable for global power input specifications and The output power can reach 35W.
Operations and Settings:
LP1's
front panel integrated 4 buttons and  4 indicator LEDs can clearly ​indicate the current working status.
12/15V output button can turn on or off output and the corresponding indicator LED will be on or off. Similarly, the 5V1 and 5V2 outputs are the same. The set button can clear alarm information and set the output timing.
Custom Toroidal Transformers and components
SONCOZ LP1 uses custom transformers and a large number of high-performance components to ensure ultra-low noise and high performance.
SONCOZ LP1 chooses 5 TI 7A4700 as voltage regulator and a large number of ELNA electrolytic capacitors to stabilize output. At the same time, it integrates MCU detection and control output to achieve intelligent, safe and stable output.
Dimensions:
Weight:
​Color:
Power input:
Power consumption:
Output noise:
Output power:

 

149.3 mm(W) 87 mm(D) 74 mm(H)
​1300 g
Deep Black / Space Gray
​AC~110/220V (Check local voltage level)
​< 45 W
<20 μVrms
​DC12/15V@1A + DC5V@1A + DC5V@2A​
DC12/15V@1A + DC5V@1.5A + DC5V@1.5A​
DC12/15V@1A + DC5V@2A + DC5V@1A​