Classical 4" Bookshelf Speaker the Hifi Cat today Recommend: Spotless Eternal 4.2 Passive 4" Bookshelf Speaker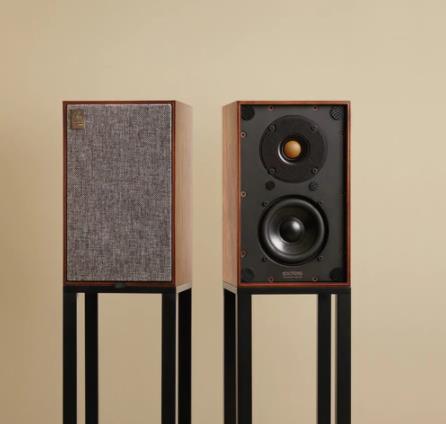 Two-Way Split Mini Bookshelf Speaker
Original Tweeter Unit: Advanced swiss technology
4"TWO-WAY: 60Hz low frequency art
Erse Capacitance: Ultra-Low ESR,transparent muiz flavor
SLEEK DESIGN: 160*190*260mm
HANDMADE: Sound with soul
VOCAL MATE: Natural and clear voice
BIRCH WOOD: Following the traditional materials used for musical instruments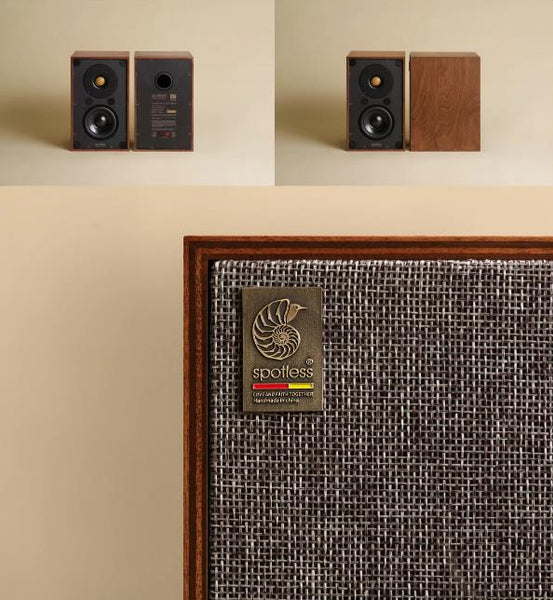 It begins with beauty, but it is more than beauty.
Design:
Eternal 4.2 is a combination of a 4' bass/midrange and a 95mm (diameter) tweeter, with a rear inverted two-way design, both using a new generation of Spotless self-developed units. Spotless has always insisted that the front and rear panels be mounted with custom screws. The advantage of this structure is that it allows the cabinet to have a high degree of inertia and low energy storage so that the low frequencies can breathe easily and freely in the 'sound box'. The cabinet is made of 15mm thick multi-layers birch wood. The principle is similar to the resonance of a violin, The purpose is to let the music get a good bounce. The whole cabinet is handmade and polished. The outer surface retains the original unique wood texture.
Features:
Natural midrange texture, and powerful low frequency dive. Its sufficient energy and thickness is a more infectious speaker with rich harmonics, especially good at expressing subtle music and the instrument's weak details.
Style:
Bright, steady, natural, full midrange texture, the clarity of the line and the transparency of the musical sound, accurate expression, suitable for listening to solo, concerto, chamber music, etc.
Compatibility:
Sensitivity is not high. The control of the amplifier and power has some requirements. An amplifier with the recommended power of 60W or more. excellent control, a clear sense of line amplifier is better. Suitable for 10 to 30 square meters of space to listen.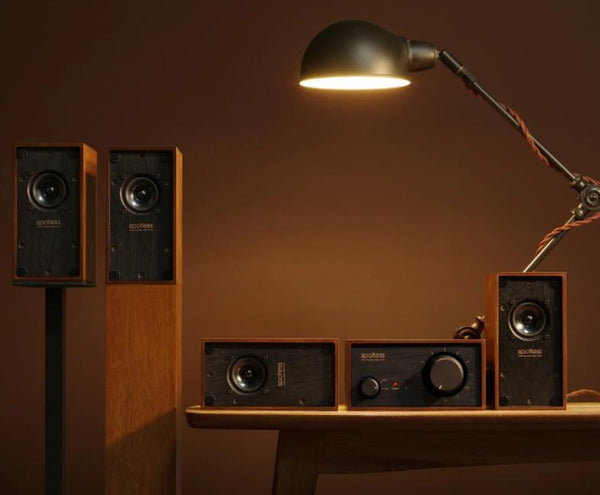 Can be combined to form a mini system:
Spotless D1 Amplifier
Spotless Seed 2.1 Bookshelf Speakers
Spotless 211 Stands
It begins with beauty, but it is more than beauty.
Our Life Force There is nothing like a constant self-challenge
We must constantly seek to innovate and challenge ourselves, which is. in our opinion, an essential thing.
In the full frequency range, high frequency is the most emotional and easy part to recognize. Spotless has been looking for high-quality, high-frequency solutions based on a thorough understanding of low and medium frequency.
This cone has gone through a lot of hardships to complete. Its performance is very neutral compared to other materials of the tweeter. It does not have that sweet as honey sound. the resolution is not strong, but the sense of listening is perfect. The tone is pure and simple, giving people a kind of unfolding feeling, warm, smooth, very durable.
Solid Metal Stand
 A good match with the stands will allow the speakers to play their performance and the characters they should have.

Spotless original solid metal stands have a very positive help to the bookshelf speakers. The most important feature is that the high and mid frequencies are vivid and dynamic, rich in detail, and the low frequency is clean and more bouncy.
Eternal 4.2 Passive 4" Bookshelf Speaker PARAMETERS
Long-term Power: 30 watts
Short-term Power: 50 watts
Frequency Response: 60 Hz~20 KHz
Impedance: 8 OHM
Sensitivity: 84dB@2.83V
Weight: 6.4 kgs / pair
Dimensions: 160 x 190 x 260 mm